PH consumer electronics trade show vows to be a haven for Filipino techies Every year, around 170,000 people flock to Las Vegas to gather round and get first dibs on yet-to-be-launched tech products on the market. The Consumer Electronics Show, which happens in January, showcases approximately 20,000 devices and tech trends and features more than 3,000 exhibitors annually.
Some of the most innovative consumer electronics have, in fact, been launched at the CES. Among them: Ultra HD and wallpaper-thin TVs, curved smartphones, wearables, home automation devices, driverless cars, and the Internet of Things.
Worldbex Services International (WSI), the country's leading events and expositions organizers, is set to bring the same experience for Filipino consumers with the first-ever World of Consumer Electronics Expo (WOCEE).
Happening on September 21 to 24 at the World Trade Center (WTC) in Pasay, WOCEE 2017 puts together hundreds of brands and exhibitors from across the world in one dynamic, action-packed venue. Visitors can sate their gadget fix at the WTC's four themed areas: the Interactive Area, Electronics Museum, Business Park, and the Conference and Seminars section.
This enables visitors to navigate the venue with ease, and get to touch, see, hear, and feel first-hand the most coveted consumer electronics in order of their features. These range from personal electronics—smart gadgets, wearables—to automotive tech and state-of-the-art IT products and systems.
Consumers, entrepreneurs, gamers, technocrats, professionals, and students can also bring the experience home as WOCEE 2017 also serves as a supersized department store that lets them purchase all their tech needs.
WOCEE also hosts at least 10 pocket events that aim to educate consumers and introduce them to the hottest products on the market. These include seminars on technological trends, product launches and demos, a Technoforums series, and a robotics competition in partnership with The Mechatronics and Robotics Society of the Philippines.
Through these, WCI changes the game as it levels the playing field for Filipino consumers amid groundbreaking tech revolutions around the world. More than a trade show, WOCEE serves as a platform for exchanging relevant information on global tech trends and market shifts, promoting a fruitful dialogue among industry players and consumers alike.
With more than 50 percent internet and mobile penetration in the country, the Philippines is quickly catching up with the rest of the world in terms of connectivity and tech savvy. With this, the first WOCEE is slated to become the biggest consumer electronics trade show in the land, making more knowledgeable "techies" out of every Filipino in the years to come.
The World of Consumer Electronics Expo offers free admission for everone. For more information, visit www.wocee.ph or follow wocee.ph on Facebook and Instagram.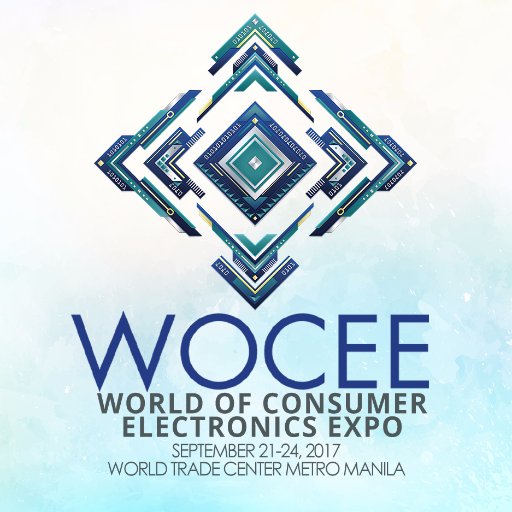 ***
#LarawanAtKape #WOCEE #TechUpdateAsia
https://www.techupdateasia.wordpress.com
https://www.facebook.com/TechUpdateAsia